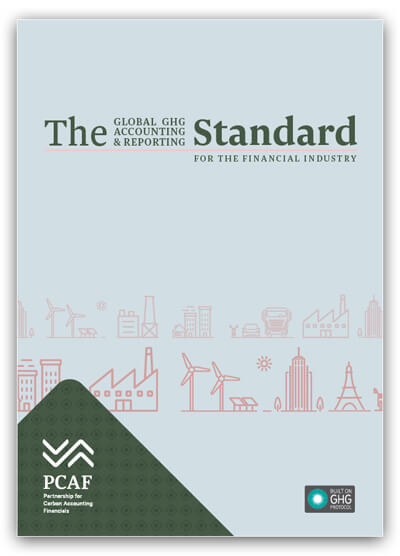 Responding to industry demand for a global, standardized GHG accounting and reporting approach, PCAF developed the Global GHG Accounting and Reporting Standard for the Financial Industry (the Standard).
Download the Standard
Download the Executive Summary
For Insurance-Associated Emissions:
Download the Standard for Insurance-Associated Emissions
Download the Executive Summary for Insurance-Associated Emissions
The Standard, developed by the PCAF Global Core Team, provides detailed methodological guidance to measure and disclose GHG emissions associated with six asset classes:
As the Standard and PCAF evolve, additional asset classes and case studies will be added to the Standard.
Using this Standard equips financial institutions with harmonized, robust methods to measure financed emissions, a metric that enables them to:
Assess climate-related risks in line with the Task Force on Climate-related Financial Disclosures (TCFD).
Set science-based targets (SBTs) using the sectoral decarbonization approach developed by the Science Based Targets initiative.
Report to stakeholders like the Carbon Disclosure Project (CDP).
Inform climate strategies and actions to develop innovative financial products that support the transition toward a net-zero emissions economy.  
Built on GHG Protocol
The Standard has been reviewed by the GHG Protocol and is in conformance with the requirements set forth in the Corporate Value Chain (Scope 3) Accounting and Reporting Standard, for Category 15 investment activities
Download the Standard
Throughout the development of the Standard (October 2019-November 2020),PCAF engaged with civil society organizations to consider their ideas, discuss PCAF methodological approaches, and receive feedback.
During August and September 2020, PCAF also held a public consultation with financial institutions, policy makers, data providers, consultants, and nongovernmental organizations (NGOs). More than 200 stakeholders were reached via targeted webinars in English, Spanish and Mandarin. Furthermore, 50 stakeholders provided direct feedback to the Standard.
Watch the Standard Launch recording